Face Slimming Guasha Rose Quartz Roller Facial Massager Scraper and Face Lifting Tool Set
£37.99

£37.99

Save

£52.00
---
Treat yourself to a natural handmade stone facial roller set! 
The limited-edition Rose Quartz Workout Kit helps to relax facial muscles and smooth fine line and wrinkles while giving skin a beautiful glow. With regular use, the tools can help to brighten, tighten, and reduce puffiness to give your skin a youthful, radiant glow.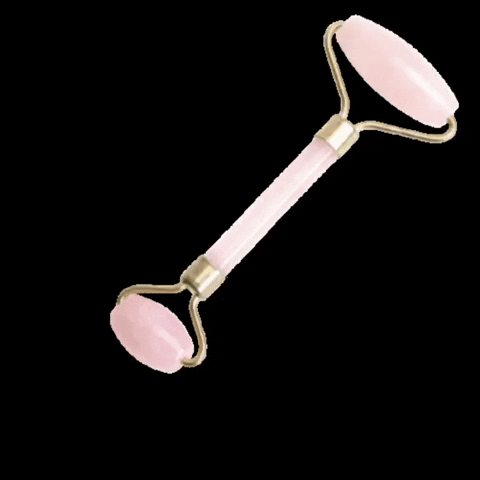 Rose quartz helps tap into the universe of love - whether it be in the form of self-love, familial love, friendship, or romantic love. This beautiful stone opens up your heart to all kinds of love and allows you to let go of negative emotions that inhibit your ability to love.
Rose Quartz – A natural crystal known to ease tension, stress and anxiety while promoting feelings of wellbeing.
The most well-known benefits of using a rose roller include reducing inflammation and puffiness of the skin, reducing the appearance of under eye circles (especially if your roller is cold), stimulating the lymphatic system and blood circulation, brightening complexion and tightening pores.

Maximise your skincare routine by incorporating this crystal roller to massage your skin. Facial rolling is a popular facial massage technique that promotes healthy, glowing complexion. This Natural Stone Quartz Facial Roller incorporates a natural one-of-a-kind gemstone with rose gold accents.
Rose Quartz = Pink Roller
FEATURES:
Enjoy a natural and healthy massage-the jade roller is made of 100% natural jade. Anti-aging, anti-wrinkle, reduce dark spots under the eyes, improve skin and health conditions without any chemicals or irritants.
Large rollers are suitable for neck, chin, cheeks and forehead, small rollers are suitable for eyes, nose and lips. The rollers promote blood circulation and can reduce puffiness and wrinkles.
Guasha Rose Quartz Stone-The package also contains Rose Quartz Healing Stone. This is a very good jade shaving tool, very suitable for use on your body, and is very helpful to relieve stress and always maintain a relaxed and beautiful mood.
Mask brush can easily care for the skin.
Rose Quartz – A natural crystal known to ease tension, stress and anxiety while promoting feelings of wellbeing.
Benefits
1. Relieve facial tension.
2. Enhance skin elasticity, tighten and condition skin.
3. Reduce puffiness, puffiness and dark circles.
4. Helps penetrate beauty products (such as creams and fragrances) deeper into the skin for better absorption
5. Promote blood circulation, make the face naturally healthy.
Special Note:
1. Everyone's color, jade pattern and thickness are different, which is normal. Because this project is carved with natural stone.
2. As you know, although we pack the jade very carefully, the jade roller is very fragile and easily damaged during transportation. If you receive a roll-off massager, please contact us to replace it with a new one.
How to use?
1. Wash your face with ordinary detergent.
2. Apply any night cream to the face and neck.
3. Move up and gently move the forehead, cheeks, lips and jade wheel on the neck. If the eyes are swollen or swollen, close your eyes and roll gently on the eyelids.
4. Use the roller on the face and neck for 5 to 10 minutes.
5. Use the jade roller 3 times a week to reduce fine lines and wrinkles.
Material: Silicone
Product size: 14*3cm
Product packaging: white card head OPP bag packaging
Function: Soft silicone brush head for even application. Apply the mask to smooth the wrinkles of the clay mask.
Available For A LIMITED Time, So Get Yours TODAY!
100% Quality Guaranteed Plus Secure Shipping
Pick Your Colour

 

and

 

Size
Click on the

 

Buy It Now button
Product in High Demand. Whilst Stock Lasts!
WHY BUY FROM PR GLOBAL STORE
PR Global Store was founded in the heart of the United Kingdom with the goal of bringing year round, outside-the-box shopping because as we all know, gifts aren't just for Christmas. We stock nothing but the most innovative and unique products so that you may never again have to hear those dreaded words, "did you keep the receipt?".
The great support we've received from our UK customer base over the years has allowed us to extend our reach to over 50 countries via International Distribution Centres. 
Customer Service is a huge priority for us because let's face it, without you guys none of this would be possible! For this reason we offer around the clock support via email and are happy to answer any questions you may have.
We're so confident in the quality of all the products we design and stock that we offer a store-wide 90 day guarantee on absolutely every item in every single order. So whether you're shopping for a friend, family member, other half or simply looking to treat yourself, enjoy it all with the added benefit of being 100% risk free! 
Click on Buy It Now and experience the PR Global Store Difference
---
We Also Recommend